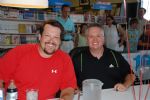 SEE HOW MUCH WEIGHT BUBBA OF RICK AND BUBBA FAME HAS LOST
4/15/2009
Bubba Bussey of Rick and Bubba fame has now lost 45 pounds!!! AND, he is a state tennis champion! He wants to let all you guys know what a great time he is having playing tennis, something he never would have been able to handle in his former fat state. He's really getting fit now that he's able to be more active.
Check out more information,and see before and after photos on www.wzzk.com. Click on the Healthy Connections page.
---
Medical Disclaimer
If you have any questions, please call our customer service at (205) 822-3266.
Healthy Connections, Inc. - Your Connection To A Healthy Life
Healthy Connections has completely changed my life and improved my health. I have lost over 70 pounds and gone from a size 18-20 to a size 8. It's so convenient; it's like having your own personal chef.
Debbie
The meals are low calorie, low fat, low sugar, and low sodium--in short, they address every well-known dietary risk to good health.
Skippy and Sandy
I would recommend Healthy Connections meals and the very friendly, helpful staff to anyone who needs to lose weight or just wants healthy meals without the stress of preparing them.
Cathy
My husband and I wanted to lose 15 and 12 pounds or more, respectively. Also, we both have high blood pressure and wanted food that was low in fat and low in salt. We tried the Healthy Connections method and were very pleased with it. We recommend the program to anyone needing a good well-balanced diet that includes good tasting food.
Edna